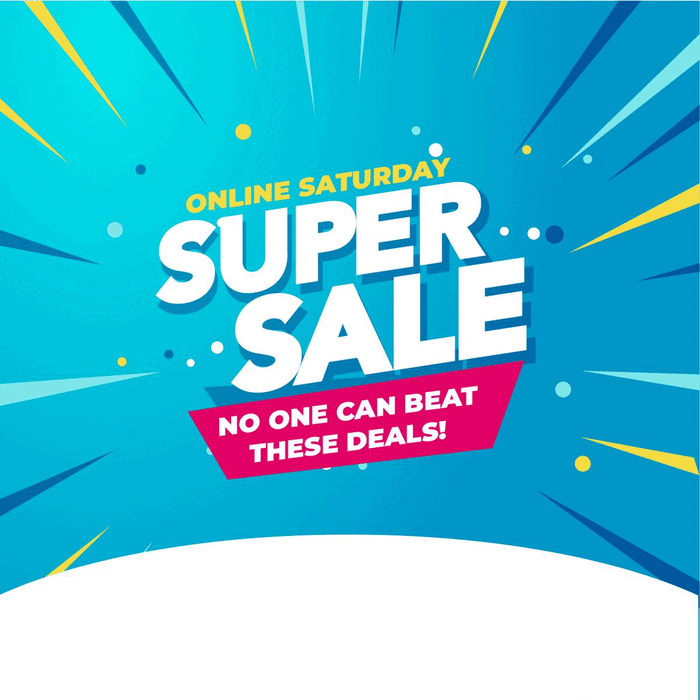 SATURDAY ONLY!
토요일 단 하루 세일!
Feb 17 9:00PM ~ Feb 18 11:59PM
Start at Friday 9:00 PM ~ Saturday 23:59 PM The Sale Price will be automatically changed during the sale time period only. Do not miss this chance.

세일 가격은 세일 시간에 맞춰 자동으로 적용되며 세일 시간이 지나면 원래 가격으로 적용됩니다. 플레시 세일기간을 놓치지 마세요.!
Sale price

$ 15.99

Regular price

$ 23.99

Sale price

$ 14.99

Regular price

$ 21.99

Sale price

$ 14.99

Regular price

$ 21.99

Sale price

$ 5.99

Regular price

$ 7.99

Sale price

$ 19.99

Regular price

$ 23.99

Sale price

$ 19.99

Regular price

$ 23.99

Sale price

$ 12.99

Regular price

$ 14.99

Sale price

$ 12.99

Regular price

$ 14.99

Sale price

$ 5.99

Regular price

$ 7.99

Sale price

$ 8.99

Regular price

$ 14.99

Sale price

$ 6.99

Regular price

$ 11.99

Sale price

$ 6.99

Regular price

$ 11.99

Sale price

$ 16.99

Regular price

$ 19.99

Sale price

$ 6.99

Regular price

$ 7.99

Sale price

$ 6.99

Regular price

$ 7.99

Sale price

$ 6.99

Regular price

$ 7.99

Sale price

$ 7.99

Regular price

$ 8.99

Sale price

$ 7.99

Regular price

$ 8.99

Sale price

$ 7.99

Regular price

$ 8.99

Sale price

$ 7.99

Regular price

$ 8.99

[CJ] Bibigo Soybean Paste Stew / 비비고 된장찌개 (460g)

Sale price

$ 6.99

Regular price

$ 9.99

Sale price

$ 10.99

Regular price

$ 12.99

Sale price

$ 8.99

Regular price

$ 9.99

Sale price

$ 10.99

Regular price

$ 13.99

[CJ] Hetbahn Cooked White Rice / 햇반 (12ea/box)

Sale price

$ 17.99

Regular price

$ 21.99

Sale price

$ 9.99

Regular price

$ 12.99

Sale price

$ 7.99

Regular price

$ 9.99

Sale price

$ 7.99

Regular price

$ 9.99

[Choice] Beef LA Short Rib / LA 갈비 (2lb)

Sale price

$ 39.99

Regular price

$ 43.99

Sale price

$ 39.99

Regular price

$ 43.99

[Choice] Beef Ribeye Sliced / 최상급 등심 불고기 (2lb)

Sale price

$ 21.99

Regular price

$ 25.99

Sale price

$ 21.99

Regular price

$ 25.99

Pork Belly Sliced BBQ / 돼지 삼겹살 BBQ (2lb)

Sale price

$ 19.99

Regular price

$ 23.99

Pork Collar Butt Steak / 최상급 돼지 목살 스테이크 (2lb)

Sale price

$ 17.99

Regular price

$ 22.99

Pork Butt Sliced / 돼지 불고기 (2lb)

Sale price

$ 17.99

Regular price

$ 19.99

Pork Butt Sliced Marinaded / 양념 돼지 불고기 (2lb)

Sale price

$ 9.99

Regular price

$ 11.99

Sale price

$ 9.99

Regular price

$ 11.99

Sale price

$ 10.99

Regular price

$ 12.99

[Jongga] Seasoned Dried Radish / 종가집 무말랭이 (200g)

Sale price

$ 8.49

Regular price

$ 10.99

Sale price

$ 6.99

Regular price

$ 11.99

Sale price

$ 6.99

Regular price

$ 11.99

Sale price

$ 6.99

Regular price

$ 11.99

Sale price

$ 10.99

Regular price

$ 13.99

Sale price

$ 8.99

Regular price

$ 11.99

[Addal] Tteokbokki Smoospicy / 아딸 국물 떡볶이 (515g)

Sale price

$ 8.99

Regular price

$ 11.99